Hanim Yassin
Policy Officer – SNE, Unit D.3 – Medical Devices, DG SANTE, European Commission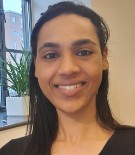 Hanim Yassin is a seconded national expert from Denmark, who joined the Commission in 2020.
Before joining the Commission, she worked as a scientific officer in The Danish Medicines Agency for three years, mainly with clinical investigations and in the fields of vigilance and market surveillance.
In the Commission her job is to contribute to the formulation and implementation of the EU regulations for medical devices, and support the work of the MDCG Market Surveillance subgroup and MDCG Post-Market Surveillance and Vigilance subgroup.