Alexandre Jauniaux
Head of Division Medical Devices, FAMHP, Belgium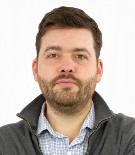 Alexandre holds a master degree in biology with an orientation in biotechnology. He started his career in 2006 working in private CROs as responsible for the managing of clinical investigation databases.
In 2013, he joined the division of medical devices of the FAMHP as file manager and became more and more experienced in medical devices domain. He became the head of the division in 2016 and started to improve the division by increasing the staff and enhance the internal medical devices expertise. In 2017, the FAMHP took over the IVD responsibilities for which it made sure to increase the internal knowledge in this area.
Furthermore, Alexandre represents Belgium in different European groups as International Medical Device Regulators Forum (IMDRF), Medical device coordination group (MDCG) and different subgroup of the MDCG. He is also a member of the CAMD executive group.